The access node API service is one of RockX's leading product offerings and symbolizes our commitment to supporting the builder community in the digital asset space. As such, we are dedicated to continuously optimizing our architectural design to provide more functionality to our users. In addition to the various enhancements we've made over the past few months, we are pleased to announce that we are adding 2 new networks to our already extensive list of supported networks.
Welcoming Astar and Litentry
We are proud to introduce Astar and Litentry to our list of supported networks. They each add tremendous value to their respective communities, and we believe that they will be an important addition to our list of supported networks.
About Astar
Astar is the largest smart contract platform in the Polkadot ecosystem and supports both Web Assembly (Wasm) and Solidity (EVM). While providing native access to the Polkadot ecosystem as a parachain, Astar also has bridges into other major ecosystems such as Ethereum, BSC, Cosmos, Polygon, and more. As part of its #Build2Earn program, Astar provides dApp developers with a basic income through inflation and provides direct funding to projects through its Astar Incubation Program.
It is also a highly ranked Polkadot parachain across several measures, including its total value locked (TVL) of $28.8m (as of 19 September 2023). The reason for its popularity is manyfold, but one of the reasons is definitely that it connects Polkadot to Ethereum and all major Layer-1 blockchains. For EVM developers, this means that it is rather simple to start integrating Astar into their dApps.
Additionally, Astar is a popular network in Japan, where we receive a decent amount of website traffic. In June 2023, Astar even received a strategic investment from Sony Group. We believe that by integrating Astar into our portfolio, we will be better equipped to serve our clients or their clients located in the region.
Upon integration, users will be able to utilize our access node RPC to send transactions, get on-chain data, and build their dApss on Astar without maintaining their own nodes. In addition, RockX supports all other major EVM chains, offering users a complete node infrastructure solution.
About Litentry
Litentry is a decentralized, cross-chain identity aggregator that enables users to link their identities in a privacy-preserving context. Litentry aims to give users full control over their personal data and enable them to gain social and economic value. The Litentry protocol can be adopted in on-chain reputation, governance, DeFi, and customized data services.
Litentry offers a solution to the fragmentation of decentralized identity data, making it more manageable and effectively addressing data fragmentation. On top of that, Litentry makes granular control for users easy through the Litentry Identity Hub. It gives users the power to decide which parts of their identity data are shared, promoting data sovereignty. With a focus on privacy, Litentry has implemented a Trusted Execution Environment (TEE) infrastructure, adding a privacy-preserving layer between raw blockchain data and data shared with a dApp. It also provides secure storage for the sensitive identity graph, ensuring data privacy.
We believe that our users and, potentially, their clients, will really benefit from Litentry's privacy features. Users can use our access node RPC to send transactions, get data, and build their dApps on Litentry without having to maintain their own nodes.
RockX Access Nodes' Supported Networks
The addition of these 2 networks will bring our total number of supported networks to 28. We believe that each and every one of these networks will bring value to the Web3 community at large, and we aim to continuously offer greater support.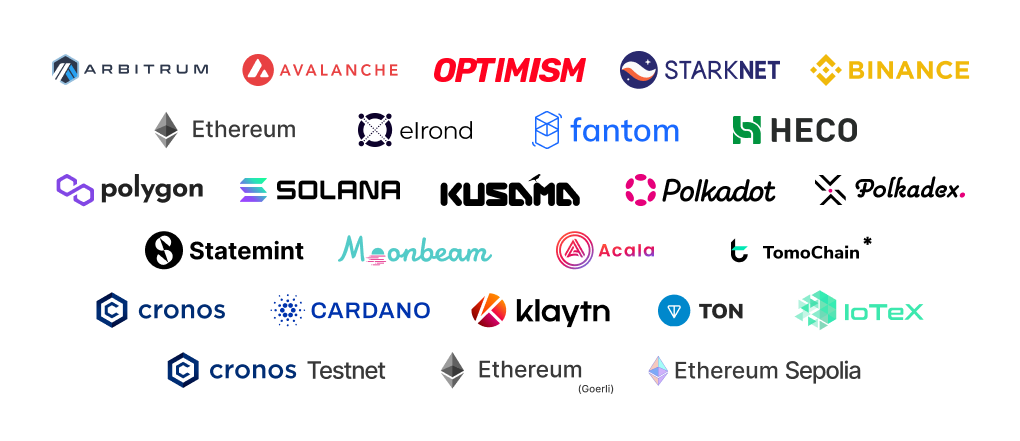 RockX's Access Node Journey So Far
Over the last few months, we have implemented several enhancements to our service that have brought great value to our clients. Some of these enhancements include, but are not limited to:
Support WebSocket
Support MEV protection on Ethereum and BNB chain
Support debug and trace calls on most EVM chains
Support new blockchains: Ethereum Goerli testnet, Statemint, Polkadex, Moonbeam, Acala
Launched Sepolia Faucet that grants developers up to 0.5 Sepolia ETH per day
These improvements, along with several others, have improved the workflow of our clients. We are very proud of our access node product and its performance, boasting a 99.9% uptime. As of August 2023, here are some performance statistics of our access node product:

RockX's archive nodes that support comprehensive historical data on demand, along with their multi-chain support with debug and trace function, have been crucial to EigenPhi's transaction analysis business, i.e., MEV Evaluation and Trading Strategy Discovery & Exploration. We appreciate their commitment to continuous improvement, and the efficient tech team support that resolves issues whenever required, all of which contribute to our high quality data provided to the DeFi industry.

David (Yu) Du, CTO & Co-Founder, Eigenphi
The Road Ahead
We will not stop evolving and enhancing our product for the betterment of the Web3 community. Some upcoming improvements our users can look forward to:
Composer dashboard
We are launching the composer dashboard (otherwise known as the Sandbox), to enable users to test, fix, and explore request methods without the command line, and get results immediately.
Subscription with credit card
We will enable monthly subscription payments with credit cards in early Q4. This will make the payment process easier for clients
If you have any feature or network requests or would like to learn more about our access node product, please let us know via our socials or email us at [email protected]. We look forward to hearing from you and serving you to the best of our abilities.