Among two projects in the DeFi space that are experiencing this meteoric rise, are Polkadot and Kusama.
Polkadot, the 9th biggest cryptocurrency project per market cap as of this post. It promises a decentralized blockchain platform where users can interact and create dApps.
Kusama, on the other hand, is mainly used to test Polkadot projects before launching them. Its advantages are clear: Kusama is flexible, fast, and efficient. But this comes with more risks for developers and users.
As these projects go mainstream, more investors are learning how profitable staking Kusama and Polkadot are. We take a side by side look at the differences between the two.
The difference between staking Polkadot and Kusama?
There are two ways for staking DOT — either by being a validator or a nominator. Validators earn staking rewards by having an active node that they manage daily. Nominators choose the validators and stake the DOT.
Staking Polkadot is done via a mechanism called Nominated Proof-of-Stake (NPoS). The protocol works to increase security and reliability so that the networking is running safely. In comparison, nominators engage in DOT staking and choose competent validators.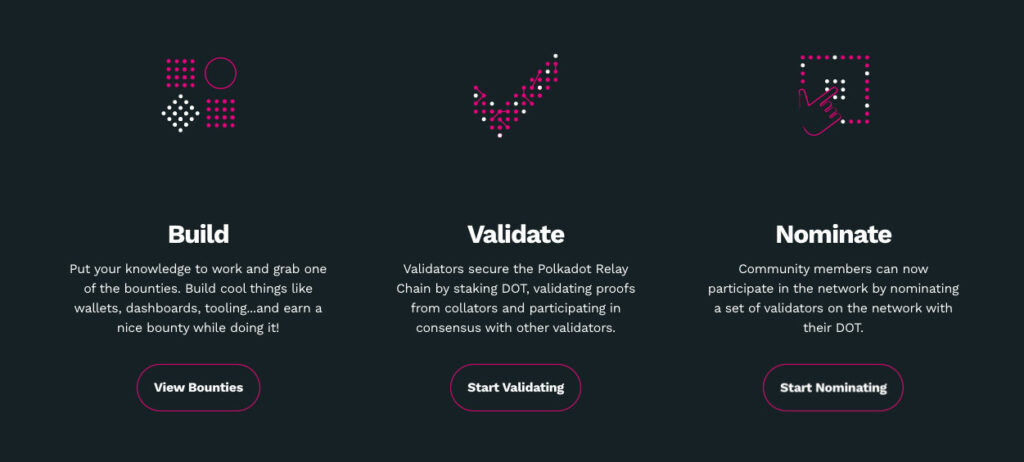 Both Nominators and Validators earn rewards in minted coins. They can expect a 4-5% yearly net return after deducing the roughly 10% yearly inflation rate. When Polkadot staking, after unbounding investors funds will stay locked for 28 days.
Anyone can be a Nominator, but you need at least 350 DOT to be a Validator, which is not very easy for the average investor. Kusama is an earlier version of Polkadot, meaning it uses the same code. In other words, the staking process works in the same way from a technical point of view.
How to stake Polkadot (DOT)
Staking Polkadot (DOT) can be done through major exchanges, wallets, or the Polkadot platform. If going with the latter, the general guide below:
Step 1: Create a Polkadot Stash Account — Begin by creating a Polkadot account. Managing your funds is easier if you make a Stash and a Controller account. The easiest way to engage with the platform is to install the Polkadot.js Browser, which users can easily download from Chrome, Brave, or Firefox.
Step 2: Create a Polkadot Controller Account — Once you've created the Stash Account, you should do the same for a Controller account. Users will use the Controller Account to nominate validators and perform basic operations. And make sure you leave at least 1 DOT unbounded, or the balance won't cover the fees.
Step 3: Claim your DOT token — Investors that bought DOT in the prelaunch token sale can reclaim their coins. All you need is a Polkadot address, an Ethereum address, and a My Crypto Account.
Step 4: Stake your DOTs — Once you've checked that the Polkadot main net is working as it should, you can finally start the nomination process.
How to stake Kusama
KSM staking is very similar to DOT's and investors can do it on major exchanges, wallets, and Polkadot JS and browser extensions. This is a guide for doing it on the Polkadot platform.
Step 1: Create a Kusama Stash Account — First, create a Kusama Stash account. To manage your staking investments, you will need both a Stash and Controller account. Just like with Polkadot, users will use the Stash account for the actual staking. Make sure to install the Polkadot.js Browser, from Chrome, Brave, or Firefox. Once you create the account, you will receive a mnemonic seed phrase. Remember to keep it somewhere safe and never share it with anyone, as it holds access to your funds.
Step 2: Create a Kusama Controller Account — The next step is to create a Kusama Controller account. On it, you will perform everyday staking operations like changing validators. You can either make one with your existing account with the same mnemonic phrase or create a new account with a separate seed. The second option is ideal for people looking for extra security, but remember to store your seed phrase somewhere safe. Keep at least a 1 or 2 KSM in this account to cover all the transaction fees.
Step 3: Stake your KSM token — Now, the last step is to connect via the Polkadot JS website to the Kusama mainnet.

Polkadot JS supports several networks. Make sure to choose "Kusama" before you continue. Once this is done, you can finally start staking KSM. We advise you to take your time and choose validators wisely to maximize your profits and not risk getting your funds slashed.
Other cryptocurrencies to consider
IOTEX
IoTeX is a decentralized blockchain that has the aim to connect people and machines. The exciting project that claims to empower an economic ecosystem, based on machines, trust, and free will.
IOTX investors staking coins can expect an average yearly return of 6%
Terra
Terra is a blockchain project that aims to create a reliable payment system by using fiat-pegged stablecoin. Terra uses the price stability and wide adoption of fiat currencies with the decentralization of Bitcoin (BTC) to offer fast and reliable settlements.
Investors staking the TERA token can expect 15% returns.
Oasis
The Oasis Network is a blockchain that prioritizes transaction privacy and responsible data management. Staking their native ROSE token can earn investors a 19% yearly return.
Key takeaways
Kusama and Polkadot are two very promising blockchains. Each has its benefits and is essential for each other's functioning, but there is a place for both in the DeFi space.
When it comes to staking, it is up to personal preference.
Staking Kusama yields higher returns, but Polkadot is a more established and less risky project. It also has to be said that KSM has more potential for a serious price move in the short-term, so it all boils down to your risk tolerance.