There are a variety of storage wallets for crypto assets, each with its own advantages and disadvantages. The most popular types of storage wallets are software wallets, hardware wallets, and paper wallets. With the turmoil that the crypto industry has been through in 2022, keeping your crypto safe in 2023 should be at the forefront of everyone's minds.
Among the available types of crypto wallets, hardware or cold wallets are the most secure as they work offline. Although this makes them less convenient to access, it also makes them much more difficult to hack. But what exactly are crypto cold storage wallets? Let's see.
What are Cold Wallets?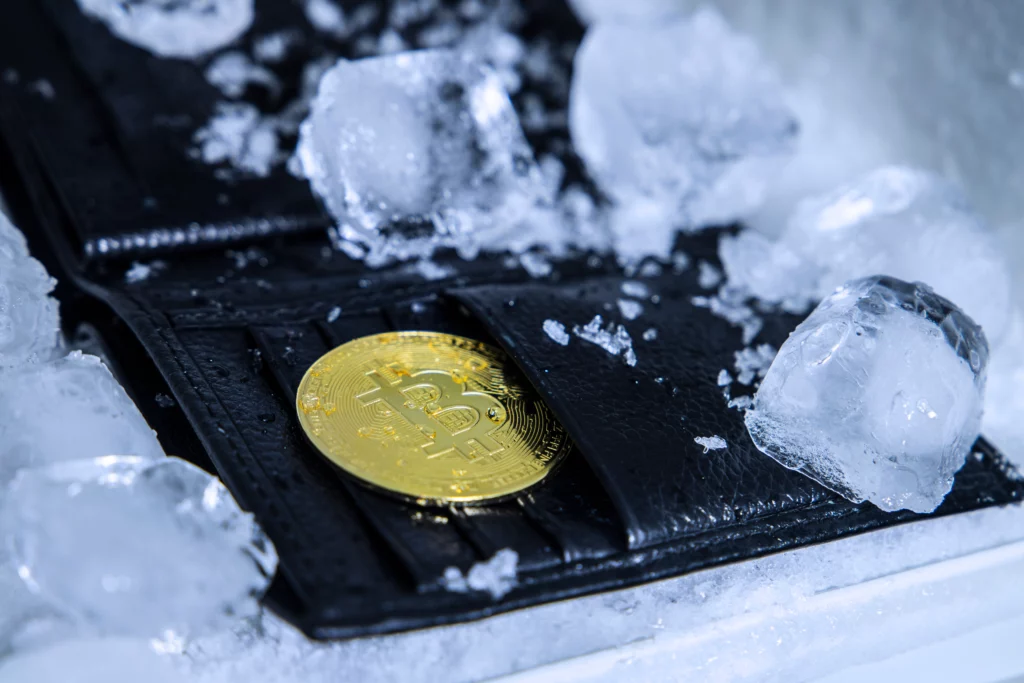 A cold crypto storage wallet is a type of cryptocurrency wallet that keeps its seed phrase offline and remains offline as long as you haven't connected it to a computer (in most cases), which means that it is much more secure from hacking attempts. After all, there is no way for a hacker to access the wallet remotely. And this is why cold wallets are considered the most secure to store cryptocurrencies from all other available options.
There are several advantages to using cold crypto storage wallets, such as increased security and privacy. For instance, by keeping your cryptocurrency offline, cold wallets keep your assets out of the reach of potential thieves. Moreover, cold wallets are also a good choice for those worried about losing their coins to hackers who found a way into their computers or losing their desktops due to being damaged.
Another reason to use a cold wallet is for long-term storage. As such, if you're not planning on trading your coins anytime soon, a cold storage wallet can help you keep them safe for the future. Moreover, if you want to put your cold storage coins to use, cold staking is still an option that allows you to earn some passive income on your crypto stash without compromising ownership of your coins.
However, cold storage wallets can be challenging to set up and use, especially for those who are not tech-savvy. They are certainly not as convenient as hot wallets, which users can access anywhere with an internet connection. And there's no brushing this aside by sweeping it under the carpets.
However, if you're worried about hacking or other security threats and want to keep your coins safe and secure, a cold storage wallet is the way to go.
Best Cold Storage Wallets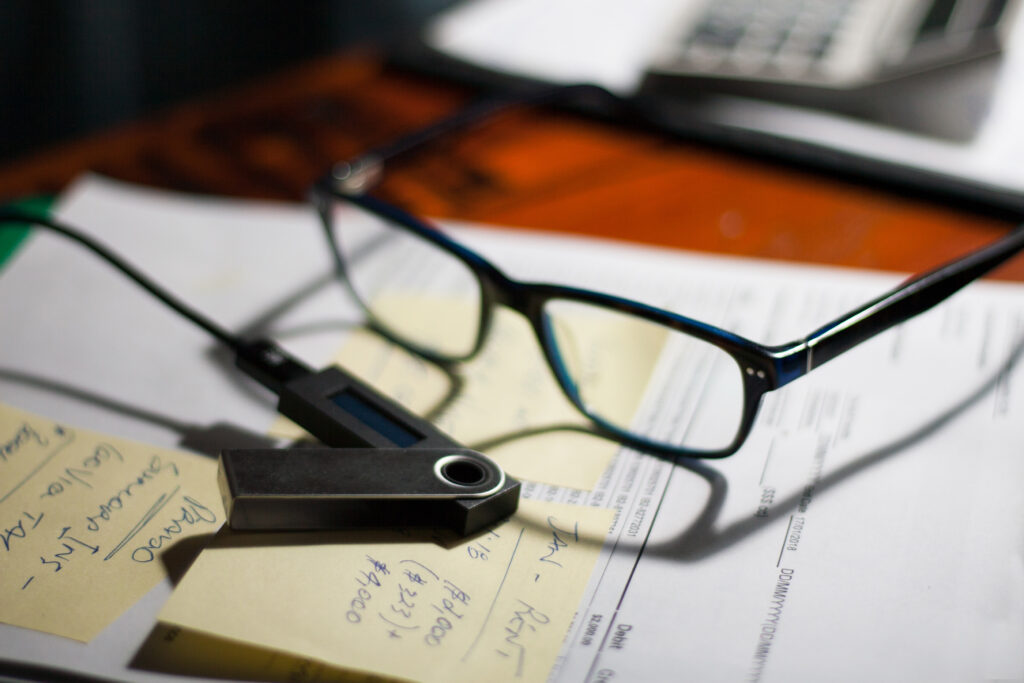 Hardware wallets, such as those produced by Trezor and Ledger, are physical drives that use cold storage to store your crypto's private keys. As a safe place to hold proof of ownership, cryptocurrency wallets can come in the form of physical hardware or software installed on a computer, smartphone, or the cloud.
For those wondering what exactly cryptocurrency wallets are, they are places for crypto traders to store secure digital codes needed for interaction with a blockchain.
Whether crypto wallet hardware or software (aka hot or cold storage), bespoke cryptocurrency wallets provide traders with a dedicated solution over what is available on cryptocurrency exchanges. Moreover, hardware cryptocurrency wallets still offer extra features such as storing NFT, DeFi, making crypto transactions, etc. So, if you are looking for a secure and reliable way to keep your cryptocurrency, a hardware cryptocurrency wallet is a perfect option for you.
1. Ledger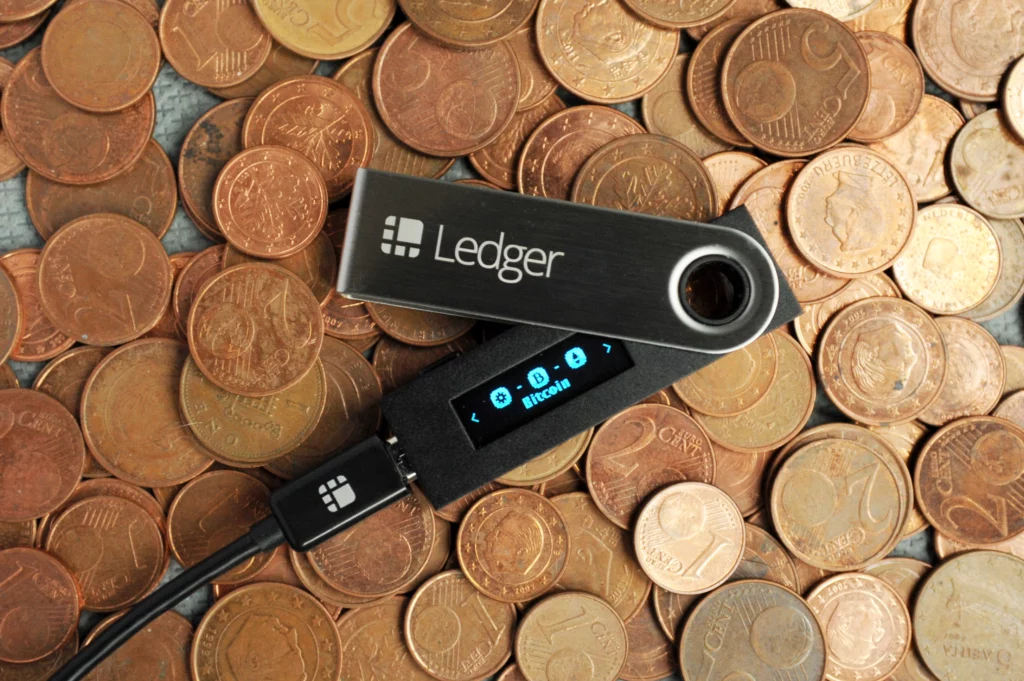 Speaking of crypto hardware wallets, few mobile wallets can compete against the Ledger Nano X, which not only has Bluetooth connectivity but also has a mobile app, making it an excellent option for mobile investors. The Ledger Nano X is built upon the success of its first wallet by adding a built-in battery and features like Bluetooth connectivity and superior asset management capabilities.
Simply put, the Ledger Nano X is the Ledger's flagship hardware wallet, and it is right up there with the best cold crypto wallets. On the other hand, the Nano X supports more than 1000 cryptocurrencies and is widely considered a straight upgrade over Ledger's Nano S in every aspect. Overall, both Ledger cold wallet devices are excellent and cost-effective cryptocurrency cold storage wallets and provide unmatched security.
2. Trezor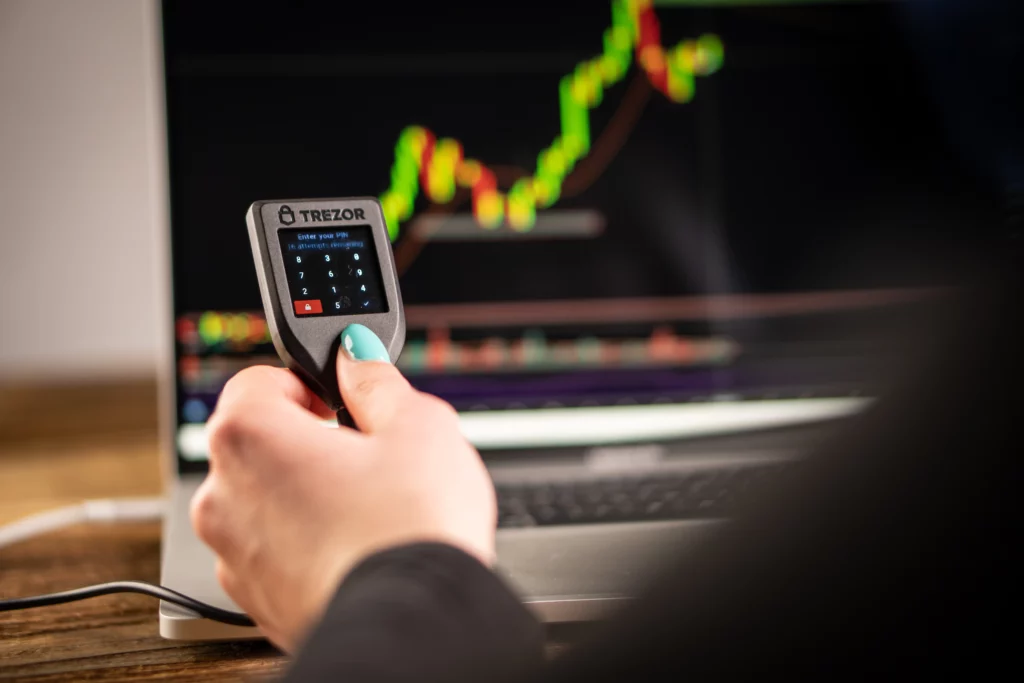 Another brand that has found a fantastic response in the crypto world is Trezor. Their wallets are also known for top-class security and user-friendliness, making them an excellent choice for beginners as well as experienced cryptocurrency users alike.
Trezor wallets are USB-like electronic devices designed for creating private and public keys. And for those oblivious about the meaning of TREZOR, it is a Czech word that means vault. This makes sense as its name is a testament to the kind of secure storage the Trezor wallet is designed to provide for your digital money.
Boasting dual-checking of transactions, PIN protection, and PIN lock, it is yet another wallet that puts security first. One of the most popular wallets in its kitty, the Trezor Model T, is one of the best hardware crypto wallets. This globally supported cold wallet offers touchscreen functionality to first-time cryptocurrency traders, which helps their experience compared with their older models. The number of tokens it supports is above 1,800+ coins, including Ethereum, Bitcoin, Ripple, etc.
Quite naturally, such impressive features have made the Trezor Model T a preferred choice both among the Trezor wallets and the DeFi platform to integrate to provide their users with complete cryptocurrency security. On top of such amazing features, Ledger and Trezor are also integrated with Web 3.0 wallets like Metamask, allowing users to access various DeFi platforms.
3. Atomic Wallet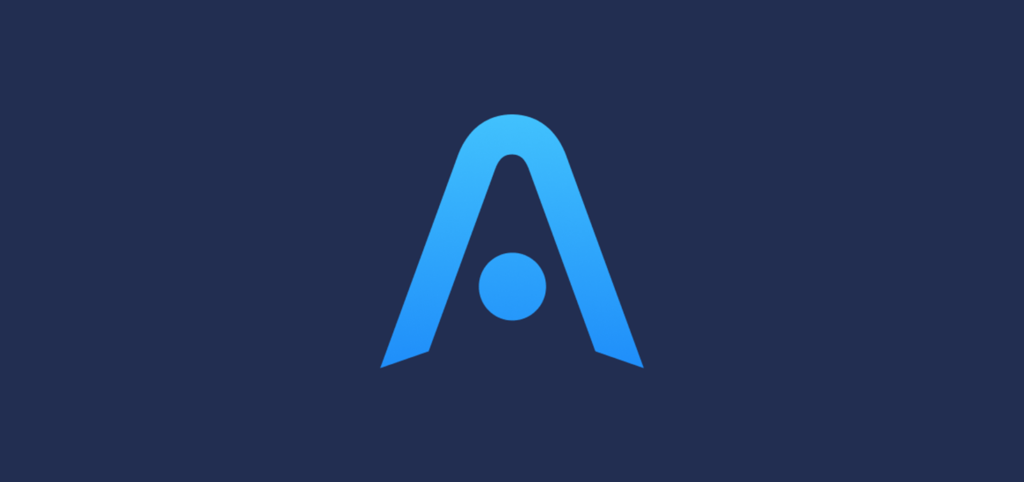 How can we miss Atomic Wallet while discussing cold wallets? It is another cold wallet that may not feature the same top-notch technology as Trezor or the Ledger Cold wallet, it definitely is a worthy addition to our list of best cold wallets for cryptocurrency at zero up-front costs. It comes equipped with most of the same security features found in the Ledger premium offerings, but there are some areas where cost-cutting is apparent.
Then comes Coinbase Wallet, which also comes with Cold wallet storage. It allows you to store a significant amount of funds offline, only using your Hot wallet for everyday transactions. It boasts top-of-the-line security features like Multisig Vault Storage, where you need multiple people to input their keys to access funds within a wallet. The Coinbase Wallet has two-factor authentication and allows you to write down a recovery phrase — although the company stores the keys in its servers.
4. Mycelium Wallet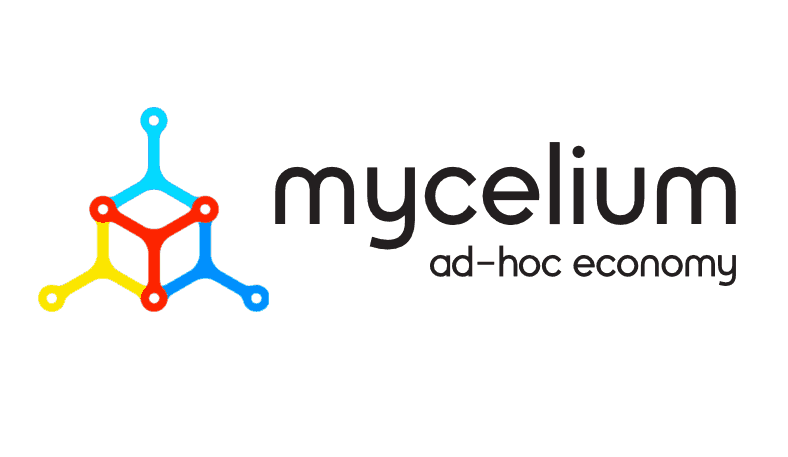 Now, let's talk about the Mycelium wallet that provides an excellent backup solution via Mycelium 12-word backup phrases that you can use to restore your wallet (cryptocurrency) in case something happens to your phone or tablet. The wallet has a feature known as cold storage, allowing users to safely store a large number of currencies in external drives.
Conclusion
A cold/hardware wallet means that a crypto wallet is stored on a device that is separated from your computer, requiring the private key for transfers of the cryptocurrency to another wallet or to a secured platform, where you would supply the public key for accessing the cryptocurrency amounts that you are trading.
Such a wallet is almost invulnerable to hacking attempts and provides a nearly unstoppable layer of security for its contents.
If you're considering getting a cold storage wallet this 2023, these are the ones that offer the most security and features. So, choose a wallet that best suits your needs and keep your cryptocurrency safe.