Needless to say, Ethereum's Shapella Upgrade has been the talk of the month. On 12 April 2023, Ethereum successfully underwent the Shapella Upgrade and enabled the withdrawal of staked ETH for the first time on the network. In the weeks after, all eyes were on Ethereum as the masses speculated what the future of the network would look like – so far, it's looking great.
In the meantime, crypto regulations around the world have taken on new developments as the EU passed the world's most comprehensive crypto regulation. The Hong Kong court has also declared crypto as property, putting it on par with stocks and other similar assets in the SAR. Meanwhile, Gary Gensler faced backlash in a contentious congressional hearing from which a video of him refusing to explicitly state that crypto is a security went viral.
AI has started to move into the blockchain space with AI-focused blockchain CryptoGPT raising $10M in funding at a $250M valuation. Various other AI-focused crypto projects, including AI crypto trading, have begun springing up this month.
We will also get into the uncertain crypto regulatory landscape in the US and how the crypto hub might be shifting eastward to Asia. Also this month, SushiSwap was exploited for $3.3M, which the team plans on returning to its users. Controversy has also arisen over the launch of Arbitrum DAO due to the perceived ineffectuality of the governance vote. Continue reading for more details and our takeaways from this month's news headlines.
Ethereum's Price Rallies Despite Withdrawal Delays Post-Shapella Upgrade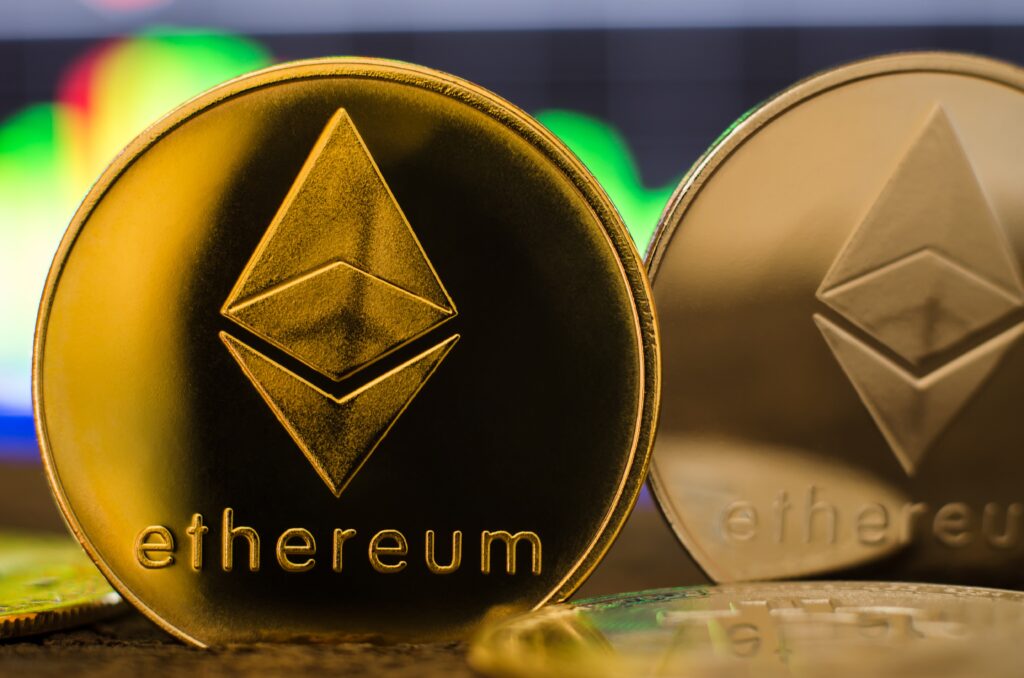 Before the Shapella Upgrade, many were fearful that the huge supply that would be unlocked would crash the price of Ether (ETH). Fortunately for ETH holders around the world, that was far from the case. In the weeks following Ethereum's monumental Shapella Upgrade, stakers had increased confidence in the blockchain, which can be seen in ETH deposits outpacing withdrawals. In fact, the price of ETH saw an 11-month high following the Upgrade, signalling confidence in the blockchain despite there being delays in withdrawals. A closer analysis reveals that ETH stakers are withdrawing rewards and not principal, with less than 5% of withdrawals being full exits from the Ethereum blockchain.
Vitalik Buterin, the founder of Ethereum, has stated that after the Shapella Upgrade, Ethereum will be focusing on scalability. The success of the Shapella Upgrade has resulted in massive institutional interest in the blockchain network.
RockX's Remarks: Ethereum has firmly anchored itself as the most robust blockchain in the crypto industry. Despite withdrawal delays, user and investor confidence is stronger than ever, propelling the price of ETH to 11-month highs. While just a few years ago many were trying to compete to become "ETH killers", it seems that Ethereum has outpaced everyone and earned a trusted spot in the industry.
EU Lawmakers Pass the World's First, Most Comprehensive Crypto Regulation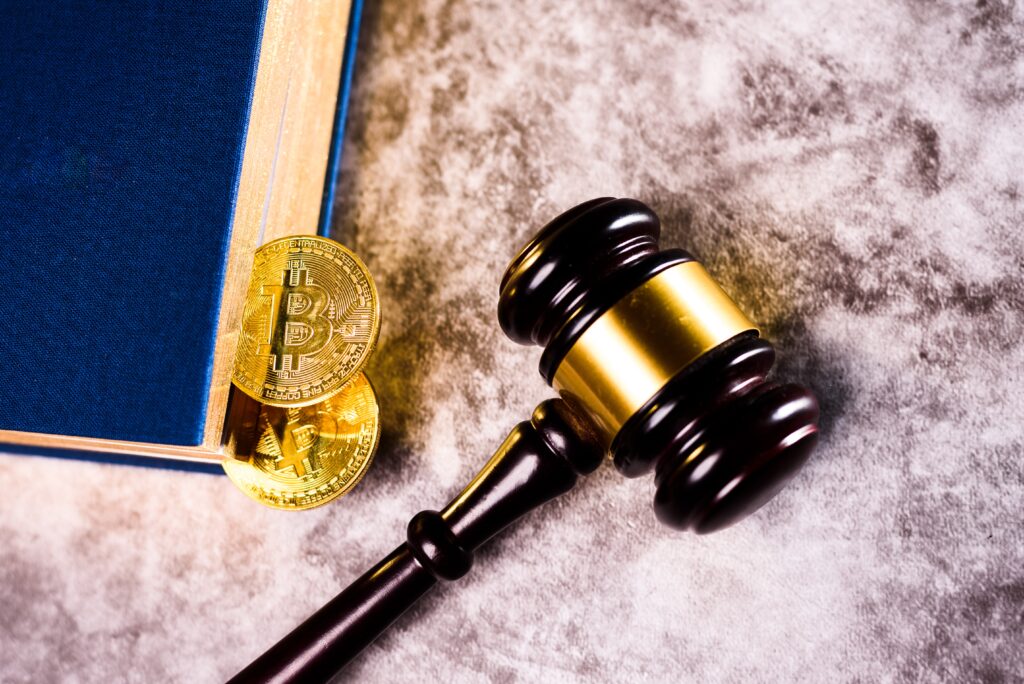 On 20 April, the EU Parliament passed a vote in favour of the Markets in Crypto Act (MiCA). This act will impose several requirements on crypto companies to ensure they are up to transparency and compliance standards as determined by the EU. MiCA is set to kick into effect in 2024, becoming the world's first and most comprehensive crypto regulation on the planet.
Meanwhile, Gary Gensler, the Chair of the U.S. Securities and Exchange Commission (SEC) was in a five-hour hearing that went viral as Gensler refused to explicitly state if he thought of Ether as a security or a commodity. This regulatory uncertainty in the US has gone on for months, with Gensler raising the issue of regulating Proof-of-Stake (PoS) assets such as ETH as securities as early as September 2022. The uncertainty has only increased since then, with Gensler repeatedly suggesting that PoS tokens should be classified as securities. This, along with lawsuits filed by US regulators against staking platforms such as Kraken, Binance and Coinbase, might be driving crypto firms abroad. Coinbase has reportedly secured a Bermuda licence, resulting in speculation that Coinbase will be moving offshore.
In Hong Kong, a court has declared crypto as property in a case involving the now-defunct Gatecoin. This puts crypto on par with stocks and other similar assets in Hong Kong. It is also part of Hong Kong's effort to regulate crypto as it opened its borders to institutional investors in crypto earlier this year, and even outlined a plan to allow retail traders to invest in larger tokens such as bitcoin and Ether. There is a clear shift in the crypto narrative, with many speculating that Hong Kong is primed to be the next crypto hub. Congressman Tom Emmer, a House representative from Minnesota, told Gensler during a Financial Services Committee hearing that the SEC's "regulatory style lacks flexibility and nuance, and as a result, [have been] an incompetent cop on the beat…pushing American firms into the hands of the CCP."
RockX's Remarks: In the most recent bull run, the crypto industry grew to a scale that had never been seen before. As such, global institutions and governments are scrambling to find the best way to regulate an industry that by nature resists regulation. With the US being unable to settle after months of lawsuits and uncertainty, many firms are now considering moving to Asia. We can see this in the vast interest in Hong Kong as a crypto hub, Bitget starting its $100M Asia-focused Web3 fund, and other Asian countries such as Japan considering launching their own stablecoin. Now, with the EU launching the world's first comprehensive crypto regulation, crypto companies might be incentivised to move there so they don't have to worry about regulatory clarity. This story is still unfolding, but Europe and Asia seem to be taking the lead as the world's next crypto hub.
CryptoGPT Raises $10M in Funding at a $250M Valuation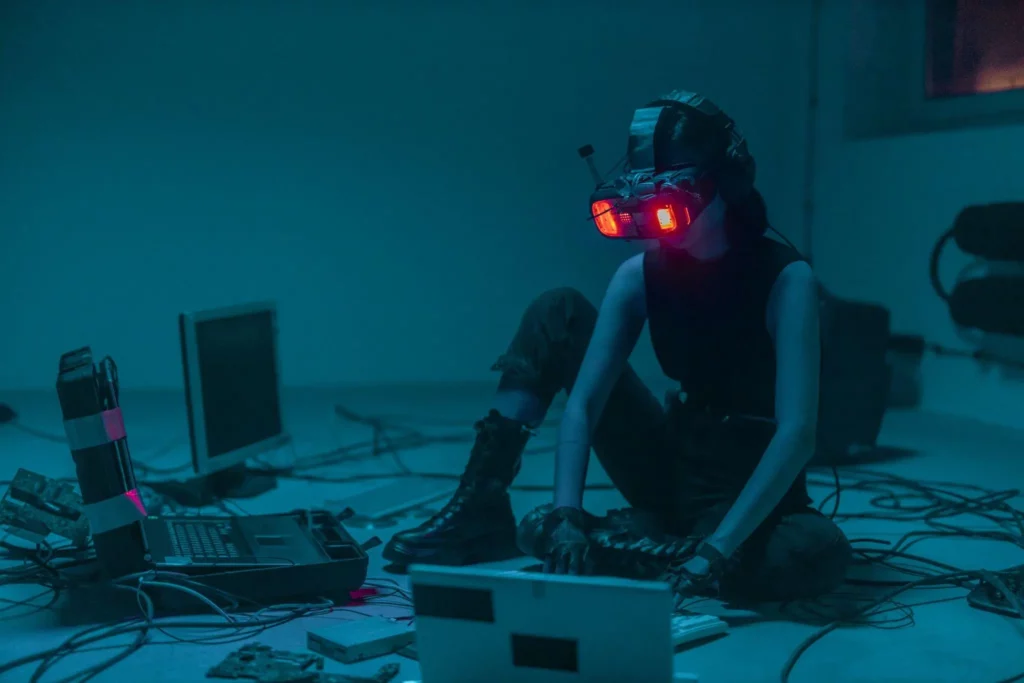 On 10 April, AI-focused blockchain CryptoGPT raised $10M in funding at a $250M valuation. It is a zero-knowledge (zk) Layer-2 that applies zk technology to private data transfers instead of payments. This is just one of the several AI-focused crypto or blockchain projects that have surfaced this month. Others include MarginFi's Omni AI chatbot that plugs into crypto wallets to "make crypto easier", ChatCrypto, the AI community intending to launch an AI token, and companies like Fetch.ai and Hong Kong-based platform OSL launching AI trading tools for crypto. Even established players in the crypto space such as Aave and Polygon have revealed their own AI projects.
AI took the world by storm in late 2022 with OpenAI releasing ChatGPT. Investments in AI have skyrocketed, and some even speculate that the hype train is moving on from crypto to AI. However, the more prominent sentiment is that AI in crypto or in blockchain is going to be the next big thing, with investor analysts predicting that many will miss the AI crypto trend.
Some of the more prominent think-pieces this month emerged from how people are envisioning AI and blockchain can work together, whether it is to redefine data security or prevent an authoritarian nightmare. Others are comparing the two technologies and explaining the differences between them as opposed to exploring where they intersect.
RockX's Remarks: Although AI and blockchain are two fundamentally different technologies, they're often compared for their potential to revolutionise the way human society functions. AI has been in the works for many years now, but it is still very much a nascent technology that is even less tested than blockchain. Even so, a noticeable drawback of AI is a centralised point of information and even the ability for AI to fabricate very believable lies. Many speculate that the ability to combine blockchain and AI will be able to solve this problem through some form of governance and verification. We're still in the early days, and it's extremely exciting to be alive and able to witness the evolution of these two very powerful technologies.
However, as a society, we do need to be careful not to steer this technology in the wrong direction and allow it to consume our humanity. As some have rightly pointed out, AI has the potential to create a dystopian future. Could blockchain technology be counter to that? It's way too early to say, but at this moment in time, it's looking likely.
Keep Up-to-Date With RockX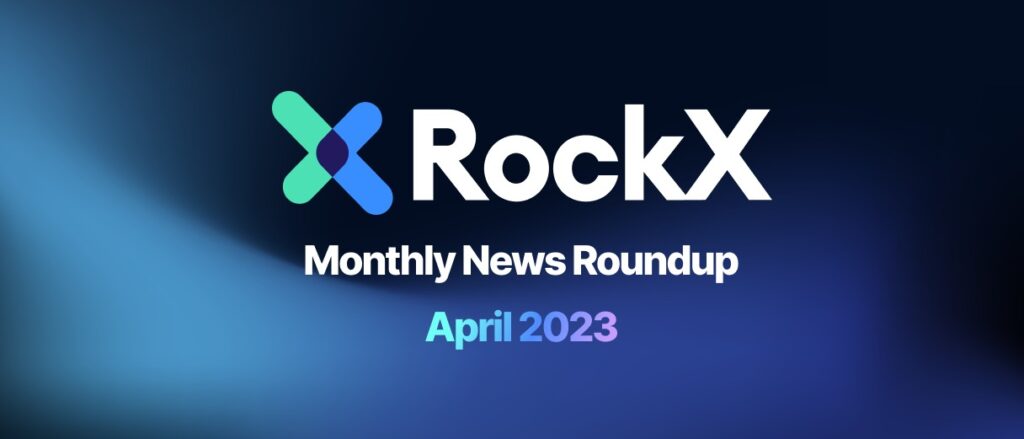 The month of April 2023 has been a very exciting month with huge developments in the crypto space, both in terms of innovation and international regulation. We've provided our thoughts on the most prominent happenings in the last month and would love to hear from you. Connect with us on Twitter, LinkedIn or Discord and let us know what you think.
We will continue to bring you the latest and greatest each month moving forward, so do sign up for our mailing list on the right sidebar if you'd like to stay informed.