Ethereum and Polkadot are two giants in the DeFi space. Ethereum is the 2nd biggest cryptocurrency project per market cap, decentralized, open-source blockchain platform where users can create, publish and monetize dApps. On the other side of the ring, Polkadot remains the 8th biggest crypto and is often — alongside Cardano (ADA) — considered a huge competitor.
Despite the rivalry between the three tokens mentioned above and the fact that each project started together on ETH, each token is exciting in its own right. As decentralized finance continues to go more mainstream, more investors — new and old — are learning how profitable staking both cryptocurrencies can be for their assets. To understand the differences between staking Ethereum 2.0 or Polkadot, we look at each side by side.
The difference between staking Ethereum 2.0 and Polkadot?
Polkadot holders can stake their coins in two ways — either by being a validator or a nominator. Validators earn staking rewards by having an active node that they manage daily. Nominators choose the validators and stake the DOT.
Staking Polkadot works via a mechanism called Nominated Proof-of-Stake (NPoS). The protocol works to increase security and reliability so that the networking is running safely. In comparison, nominators engage in DOT staking and choose competent validators.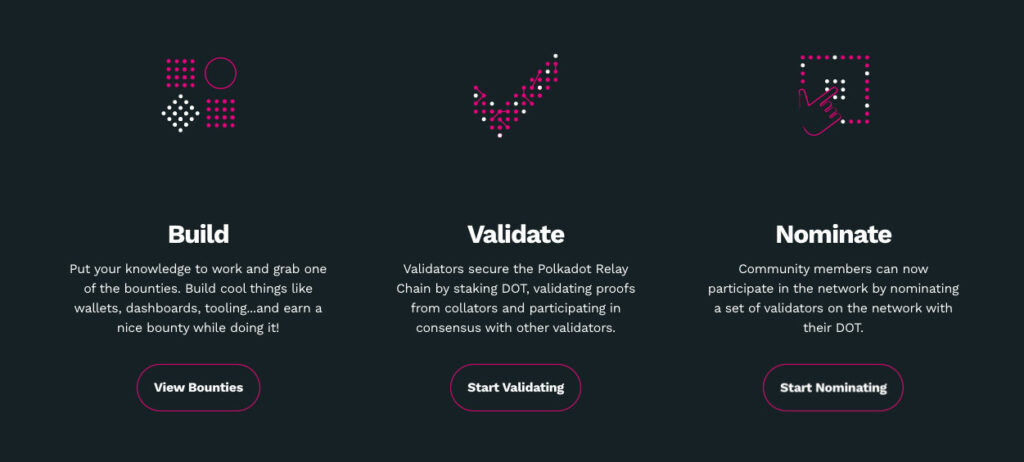 Both Nominators and Validators earn rewards in minted coins. They can expect a 4-5% yearly net return after deducing the roughly 10% yearly inflation rate. When Polkadot staking, investor's funds will also stay locked around 28 days after they are unbounded.
Technically speaking, anyone can be a Nominator, but you need at least 350 DOT to be a Validator, which is not very easy for the average investor.
On the other side of the spectrum, with Ethereum, rewards vary depending on how full the staking pool is. With over 3 billion ETH staked, investors can expect an average of 6.5% yearly return. Once users stake their funds, they cannot be undone for a long time. The ETH stays locked until Ethereum 2.0 phase 1.5 launches, which is years from now.
How to stake Polkadot (DOT)
Staking Polkadot (DOT) can be done through major exchanges, wallets, or the Polkadot platform. If going with the latter, the general guide below:
Step 1: Create a Polkadot Stash Account — Begin by creating a Polkadot account. Managing your funds is easier if you make a Stash and a Controller account. The easiest way to engage with the platform is to install the Polkadot.js Browser, which users can easily download from Chrome, Brave, or Firefox.
Step 2: Create a Polkadot Controller Account — Once you've created the Stash Account, you should do the same for a Controller account. Users will use the Controller Account to nominate validators and perform basic operations. And make sure you leave at least 1 DOT unbounded, or the balance won't cover the fees.
Step 3: Claim your DOT token — Investors that bought DOT in the prelaunch token sale can reclaim their coins. All you need is a Polkadot address, an Ethereum address, and a My Crypto Account.
Step 4: Stake your DOTs — Once you've checked that the Polkadot main net is working as it should, you can finally start the nomination process.
How to stake Ethereum 2.0
Investors can do Ethereum 2.0 staking via a node if they possess 32 ETH or more. And at today's prices, that's not exactly that easy.
Fortunately, there's an easier way. Ethereum 2.0 staking is also done via staking pools. Users deposit their ETH in a pool with other investors, and they can stake even without having 32 ETH. There are many Ethereum staking pools to choose from, and you can use supported wallets such as Trust Wallet.
Staking pools differ, and returns vary based on how full each one is. Due to the decentralization of the project, investors decide in what pool to stake their ETH.
The decision is always in the hand of the people, so we advise staying away from custodial pools. The whole point of DeFi is to cut out the middle man. By giving your ETH to a third party, you are doing the opposite, and not only that, but you also increase the risk of fraud, theft, or malfunction.
Other cryptocurrencies to consider
Cardano
Cardano is in many ways similar to Ethereum and Polkadot. By staking ADA, investors can earn a solid 7% return.
Kusama
Kusama is a flexible and scalable blockchain project and acts as a test net for Polkadot. Staking their KSM native token can earn you a 15% yearly return.
Oasis
The Oasis Network is a blockchain that prioritizes transaction privacy and responsible data management. Staking their native ROSE token can earn investors a 19% yearly return.
Key takeaways
Staking either Ethereum 2.0 or Polkadot are both great options. Both blockchain projects are among the best in the DeFi space and have a bright future ahead. Even if Polkadot and Ethereum are still technically competitors, they both have a place in the DeFi ecosystem.
When it comes to staking, it really is up to personal preference. The question remains on what project you support the most? Although Ethereum 2.0 may be a riskier option due to its relatively longer lockup period and newer technology, it can be argued that there are higher potential yields.