A Singapore-based project founded in 2018 by CEO Erick de Moura, COO Colin Steil, CTO Diego Nehab, and CSO Augusto Teixeira aims to significantly increase the computational scalability of a blockchain. By utilising technologies such as Optimistic Rollups and side-chains, Cartesi solves blockchain scalability problems and high fees. If this sounds interesting to you and you'd like a piece of this pie, consider staking their native token, CTSI! Read on to learn how to stake Cartesi with RockX.
If you're not familiar with what staking is, do check out this complete guide to staking or our blog post on potential risks of staking first. Remember, it's very important to DYOR and fully understand all the risks of any investment before getting into it. Do your due diligence on Cartesi, RockX, and staking before diving in.
A Step-by-Step Guide
You should first start by connecting your wallet to Cartesi staking pools. If you don't have a wallet yet, you need to create one first. Some popular wallets include MetaMask or Trust Wallet.
Ensure that you have enough CTSI tokens in your wallet for staking and some ETH for gas fees. Once that's done, connect your wallet and ensure that you're on the "Ethereum Mainnet", and let's get started!
Step 1: Click on the "Stake" Tab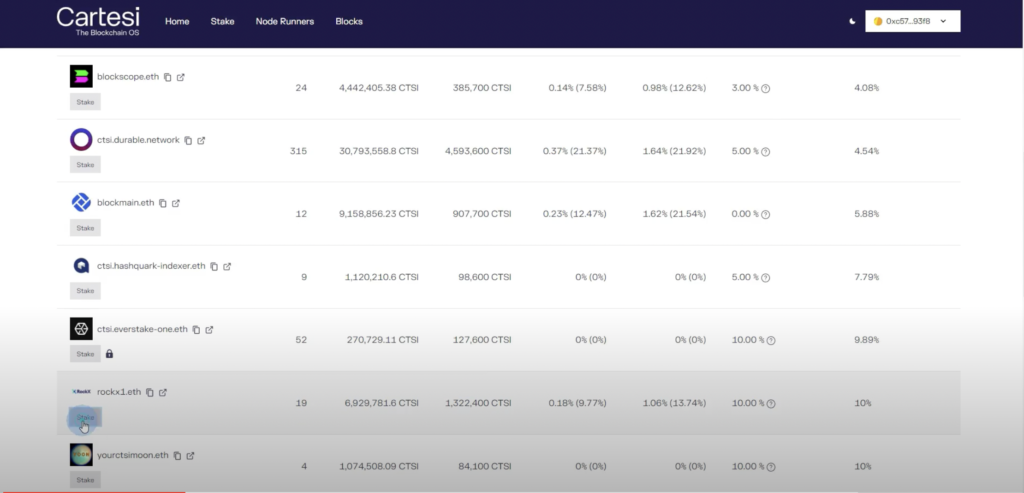 Once you're on the "Stake" tab, scroll down the list of staking pool addresses until you find "rockx1.eth". and then click on the "Stake" button right beneath it. Once the information page loads, click on the "Stake" tab again in the upper right corner.
Step 2: Set Allowance and Deposit CTSI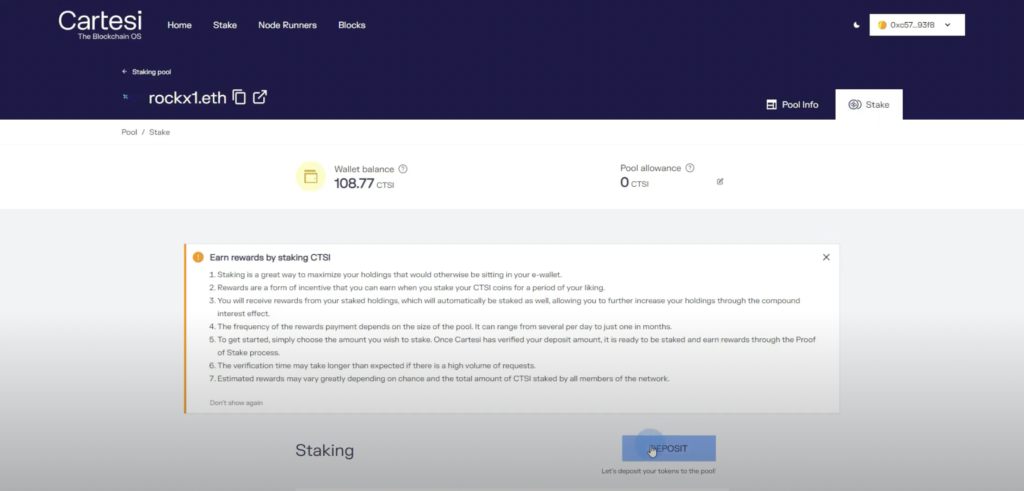 Click on the blue "Deposit" button. A pop-up should appear asking you to set an allowance. You may select whatever amount is comfortable for you at a minimum of 1 CTSI. Then, click "Approve" and then "Confirm" on the Metamask notification pop-up.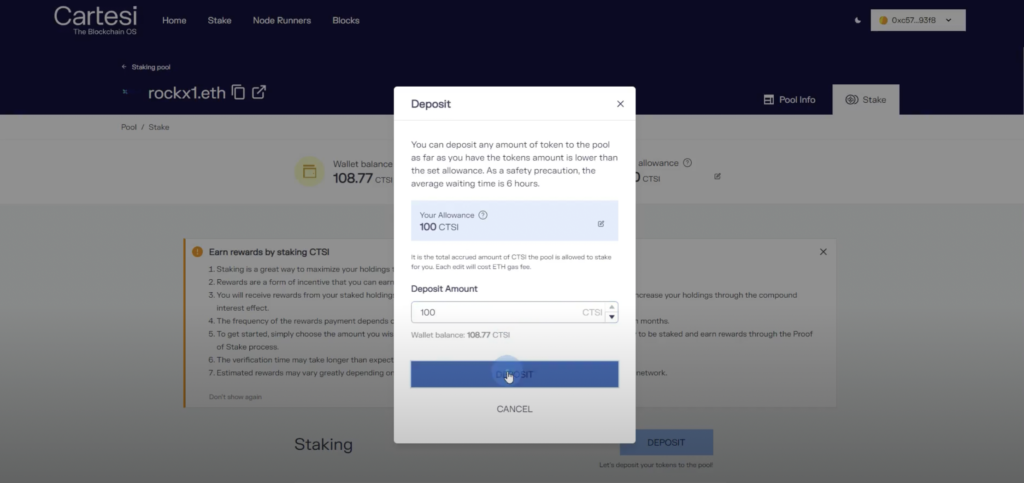 Once the approval is complete, you may deposit as much CTSI as you'd like within that limit. Now, key in the number of CTSI tokens you'd like to deposit for staking, and hit "Deposit". Then, confirm the transaction on the Metamask pop-up.
Do note that the allowance and deposit pop-up screens look very similar, but they are two separate transactions. You will need to approve two separate transactions in this step – one to set an allowance, and another to make a deposit to the staking pool.
Step 3: Stake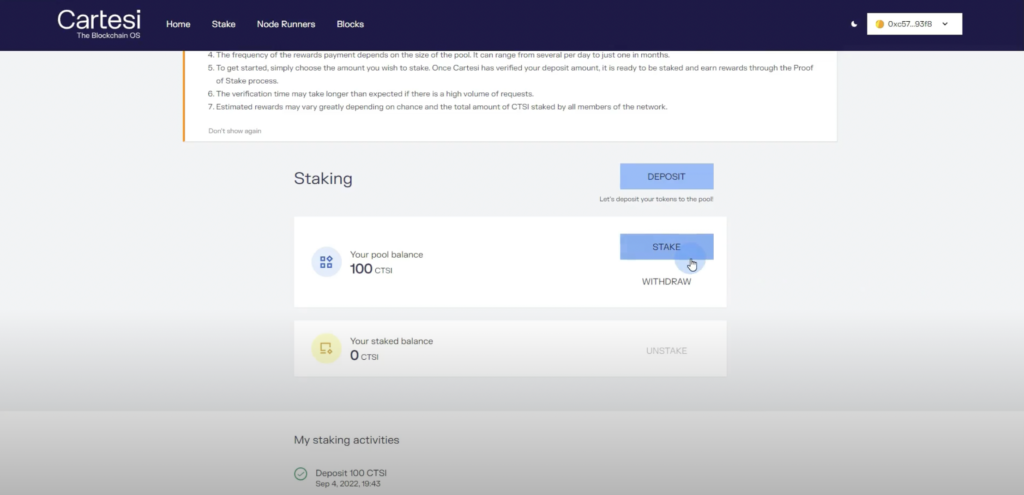 Now, you should have the amount of CTSI you deposited reflected in "Your pool balance". Click on the blue "Stake" button to the right to stake.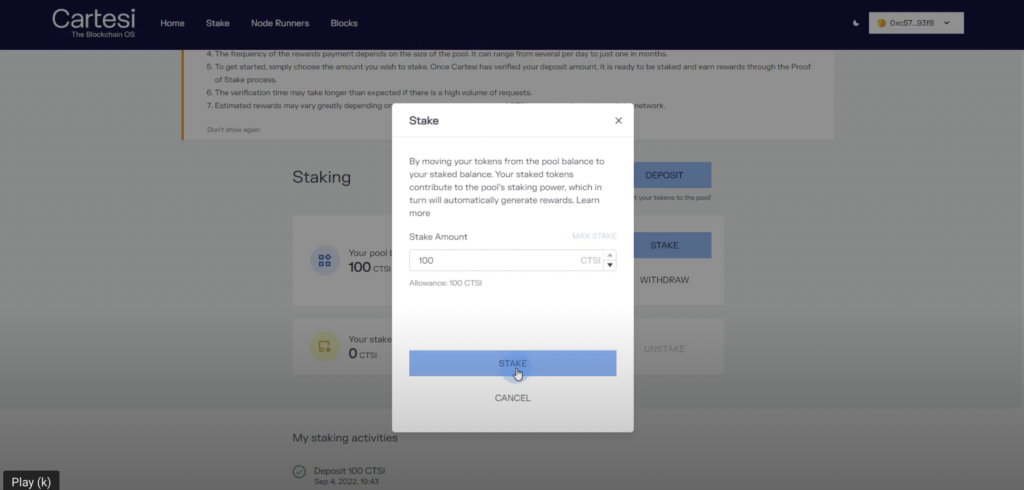 On the pop-up, enter the amount of CTSI you'd like to stake, or simply click "MAX STAKE" to stake the maximum amount available. Then, click the blue "Stake" button and confirm the transaction on Metamask.
And that's it! You're now staking Cartesi (CTSI) with RockX.
Ready to Stake Cartesi (CTSI)?
Once you've started staking, your rewards remain in the pool and are auto-compounded for staking. If you do not want this, you'll have to manually unstake and withdraw your rewards on a regular basis. However, if you're rooting for Cartesi for the long haul, then sit back, relax, and enjoy your CTSI returns! At the time of writing, CTSI is earning a 30-40% APY. If you'd need an even more comprehensive guide showing you how to set up a wallet, stake, and withdraw CTSI, do have a look at our Cartesi Staking Guide here.
If not, you're all set! You now know how to stake CTSI with RockX.