After launching its access node API page one month, RockX is excited to announce its brand new access node API portal. Right now, developers may use these access nodes to interact with most major PoS blockchains such as BNB Chain, Polygon, Cronos, Solana, and more.
The new portal will make accessing these access nodes even easier, allowing users to subscribe, manage and use all the API keys with just a few clicks. With both free and paid subscriptions available, RockX's portal has the capacity to serve both individual users and institutional customers alike.
Users may leverage RockX's established access nodes to gather on-chain data, historical data and analytics or to support new blockchain assets using one of RockX's nodes. RockX's access nodes utilise a hybrid cloud architecture and backup nodes to avoid any single point of failure, around-the-clock monitoring, and quick implementation of security fixes and upgrades to ensure the best possible performance and security.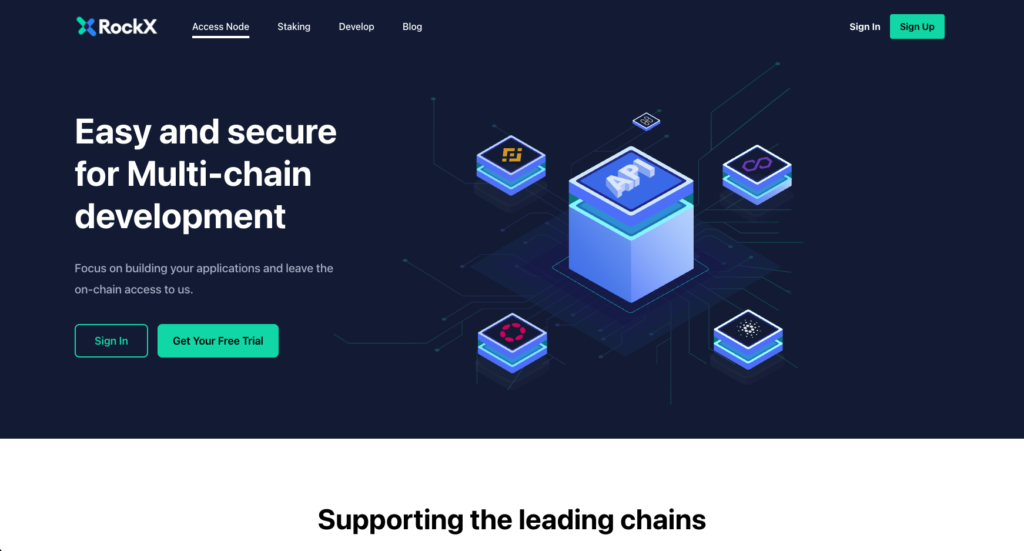 The currently available version is a public beta, and bugs are expected. Issues may be reported through the chatbot available on the website or through any of the company's social channels such as Twitter or Discord.
About RockX
RockX (www.rockx.com) is Asia's one-stop gateway to crypto finance and blockchains. The team is equipped with a wealth of experience in mining, staking, protocol research, and infrastructure design. In recent years, the company has built access node APIs for popular Layer 1 and 2 protocols for developers and helps companies seamlessly access and interact with blockchains.
With over USD 900 million worth of tokens staked, RockX is one of Asia's leading staking platforms. Focusing on serving institutional and high net-worth clients globally to compound their returns on cryptocurrencies, RockX is always open to collaborating with synergistic partners & innovative Web 3.0 projects, ultimately helping to build the decentralised financial ecosystem.