As a blockchain infrastructure company, RockX's access node service is one of the leading products offered by the company. As such, RockX is committed to continuously improving and optimizing our architecture to provide more to our users for their blockchain activities.
Two New Networks
We have come a long way from when we first started offering this service, and now we are thrilled to announce that as part of our commitment to enhancing our offering, we are adding another two networks to the list – Acala and the Ethereum Beacon Chain. We believe that the strategic inclusion of these two networks will strengthen our capabilities as a Web3 blockchain service provider and bring greater value to our clients.
Acala Network
Acala is an all-in-one decentralized finance network offering a blockchain platform secured by Polkadot. The network is home to a suite of cross-chain financial applications such as Acala Swap, self-serviced loans, liquidity providers, and Liquid DOT Staking.
RockX has a vested interest in Acala Network as one of Polkadot's parachains. We have been working closely with the Polkadot Foundation to provide RPC services for 8 parachains this year to help support the Polkadot ecosystem. By setting up an RPC node service for Acala Network, users can use our access node RPC to send transactions, get data, and build their dApss on Acala without having to maintain their own nodes.
Beacon Chain
The Beacon Chain is now referred to as the consensus layer that manages block gossip and Ethereum consensus logic. The Beacon Chain's functions include block and attestation handling, running the fork choice algorithm, and administering rewards and penalties. It does not process transactions or handle smart contract interactions, as those are managed by the execution layer.
Since Ethereum's Merge into a Proof-of-Stake network, Ethereum stopped mining and turned over block propagation and consensus to the Beacon Chain. Setting up an RPC node service for the Beacon Chain means that clients will be able to access data on Ethereum's Beacon Chain, such as block rewards and penalties, without having to operate their own nodes. For instance, clients who run ETH staking nodes will need to get their data from the Beacon Chain, and RockX's goal is to make that data easily accessible and cost-efficient.
List of Supported Networks
Including these recent two additions, RockX now supports a whopping 26 networks on our blockchain access node service. We strive to bring the best service and highest performance standards on top of our wide variety of supported chains. These chains are: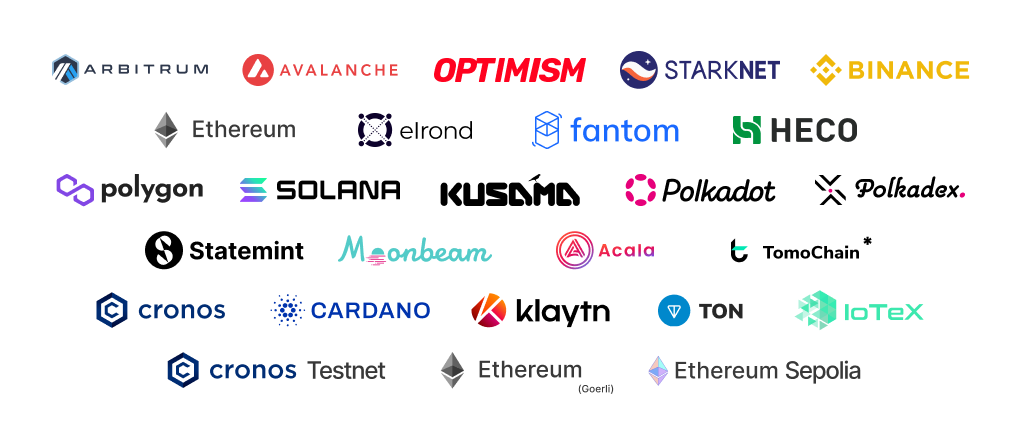 RockX's Access Node Milestones So Far
Throughout its history, RockX has been constantly pushing the boundaries of innovation and service enhancement, providing industry-leading solutions. With a steadfast commitment to excellence, RockX has introduced a series of transformative features to its Access Node service. Here is a quick look at some of the key upgrades we have made to our service in recent months.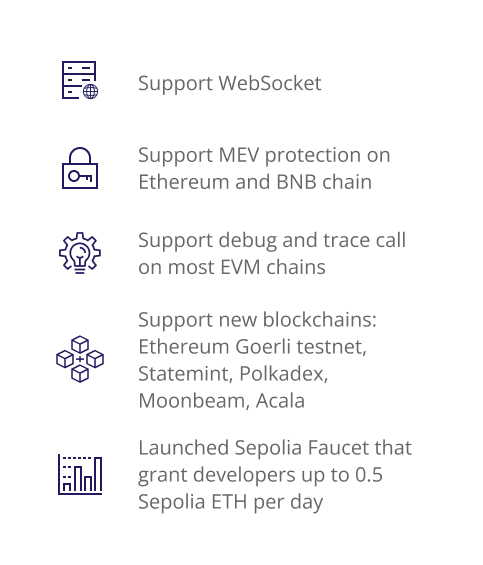 Implemented WebSocket Support
WebSocket support ensures seamless and real-time communication, elevating the user experience to new heights.
Implemented MEV protection on Ethereum and BNB chain
The integration of MEV protection on Ethereum and BNB chains underlines RockX's dedication to security and reliability, safeguarding transactions from potential vulnerabilities.
Supported debug and trace calls on most EVM chains
Support for debug and trace call functionality on multiple EVM chains enhances developers' capabilities, fostering a conducive environment for intricate blockchain operations.
Supported new blockchains: Ethereum Goerli testnet, Statemint, Polkadex, Moonbeam, Acala
As part of its trailblazing spirit, RockX now supports an even broader range of blockchains.
Launched Sepolia Faucet that grants developers up to 0.5 Sepolia ETH per day
Earlier this year, RockX introduced our own Sepolia Faucet, an initiative granting developers up to 0.5 Sepolia ETH per day, fostering innovation and growth within the blockchain ecosystem.
Positive Client and Community Responses
RockX is committed to the best-in-class, never settling for good enough, through time and innovation to serve our clients at the highest standards. We constantly monitor availability and uptime, among other statistics. Here are some numbers that have kept us going, and positive client feedback that tells us we are going in the right direction.
As of Aug 1st, RockX's Access Node Service has…

These numbers are best exemplified by a quote from one of our most longstanding clients, Amber Group, who started also employing our access node services earlier this year. For a large financial institution such as Amber, substandard products and services that cannot scale to meet their large demands are not an option. As such, RockX's expert technical team worked very closely with Amber Group to ensure that every requirement was surpassed and that our innovations were going in the right direction to optimally support large institutional clients.
"RockX's access node API service has truly been a game-changer for us at Amber Group. The wide coverage of over 20 blockchains has allowed us to seamlessly connect and interact with various networks, enhancing our operations significantly. The flexibility of their scaling plans has perfectly aligned with our dynamic needs, ensuring we only pay for what we use. Moreover, their efficient and responsive customer support has been instrumental in keeping our systems running smoothly. RockX has undoubtedly proven to be a reliable and innovative partner in our journey."

Thomas Zhu, Co-Founder and Chief Technology Officer, Amber Group
The Road Ahead
This dynamic evolution exemplifies RockX's unwavering commitment to excellence and we hope our work will play a pivotal role in shaping the future of blockchain technology. As we are never ones to give up on progress, we have several exciting upgrades and improvements in the pipeline that will further strengthen our products and services in the time to come.
We are launching the composer dashboard (known as the Sandbox), to enable users to test, fix, and explore request methods without the command line, and get results immediately.
Subscription with credit card
We are going to enable monthly subscription payments with credit cards in early Q4. This will make the payment process easier for clients.
We are eager to perfect and release our future plans so that we may provide the best possible service to our clients. From providing an even wider array of blockchains for our access node service, to even better security standards, reliable customer service and more, we look forward to serving you best.