To celebrate the launch of the Rewards feature on RockX's access node portal, RockX is conducting a giveaway to anyone who uses the voucher feature with the Cronos API on the portal.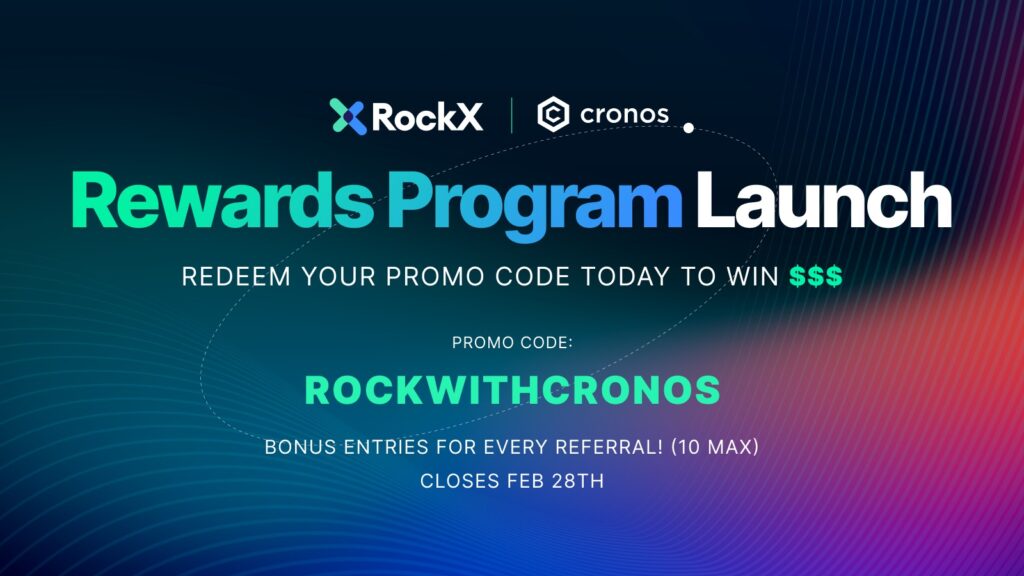 In order to participate in the giveaway, users simply need to sign up for the Access Node Portal and redeem either the promo code "ROCKWITHCRONOS". This promo code will give the user $10 to be used on the access node portal. Each promo code redemption will count as one entry in the giveaway.
Up to 10 further entries may be made through the use of the referral feature on the portal. To refer a friend, simply click on the "Get free credits" link on your portal page to share your link, or click on the Twitter icon to share it directly to Twitter.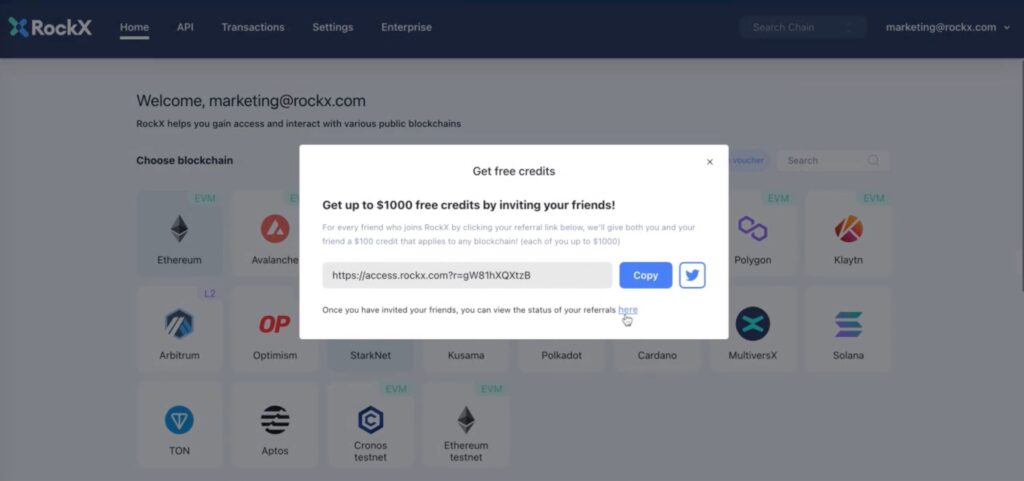 This campaign will run for two weeks from today, 14 February 2023, and will conclude on 28 February 2023. 5 lucky winners will be contacted for a mystery reward at the end of the campaign.
About RockX
RockX (https://www.rockx.com) is a global blockchain node network for staking, data, and security. The team is equipped with a wealth of experience in mining, staking, protocol research, and infrastructure design. In recent years, the company has built access node APIs for popular Layer 1 and 2 protocols for developers and helps companies seamlessly access and interact with blockchains.
With over USD 900 million worth of tokens staked, RockX is one of Asia's leading staking platforms. Focusing on serving institutional and high net-worth clients globally to compound their returns on cryptocurrencies, RockX is always open to collaborating with synergistic partners & innovative Web 3.0 projects, ultimately helping to build the decentralised financial ecosystem.
About Cronos
Cronos (https://cronos.org/) is the first Ethereum-compatible blockchain network built on Cosmos SDK technology. An open-source Layer 1 chain, Cronos aims to massively scale the DeFi and dApp (Web3) user community by providing builders with the ability to instantly port apps and crypto assets from other chains while benefiting from low transaction fees, high throughput, and fast finality.
Cronos mainnet has been live since November 2021 and is already home to more than 200 partners and more than 600,000 DeFi and NFT users. Cronos is powered by the Cronos ($CRO) cryptocurrency, which counts more than ten million holders and users worldwide.