Developers need environments to test their work. For example, Ethereum developers utilise networks as environments for development, testing, and production use cases.
Ethereum has Public Networks and Private Networks, with public networks being accessible to anyone who has an internet connection.
On Ethereum, there are three categories of public networks: Ethereum Mainnet, Ethereum Testnets, and Layer-2 Testnets. The public testnets are for use by protocol developers or developers of smart contracts to test execution and upgrades in a production-like environment before deployment.
Sepolia is one public testnet for contract and application developers to test their applications.
What is the Sepolia Testnet?
Sepolia testnet serves the purpose of application development. It uses a permissioned validator set. And as a network or development environment, Sepolia is quick to sync and requires less storage to run a node on it.
Sepolia is an efficient choice for users who want to interact with the network directly by quickly spinning up a node. It has several advantages.
Having a closed validator set, well under the control of client and testing teams, makes it efficient. And since it is a relatively new testnet, the number of applications deployed is less than other testnets, making it congestion-free. It also syncs fast, and a node can run on it with minimal disk space.
Sepolia was earlier a Proof-of-Work testnet. Created in October 2021, Ethereum core developers have looked after the testament's maintenance since its inception.
However, after the Ropsten testnet reached a Terminal Total Difficulty (TTD) of 50000000000000000, the Sepolia testnet transitioned from a proof-of-work to a proof-of-stake consensus mechanism.
What is a Faucet?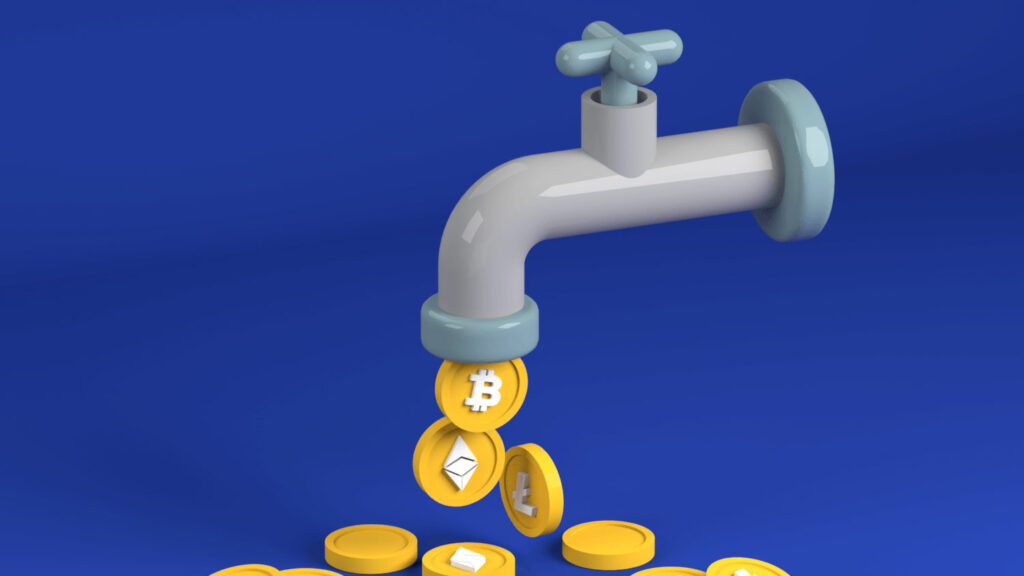 Faucets have been excellent tools in the crypto world in improving access to cryptocurrencies. People unable to buy cryptocurrencies for a variety of reasons could use crypto faucets to earn small crypto rewards.
In the crypto space, purchases or ownership of crypto coins of one's choice often requires a significant investment. Even with that investment, the number of coins that one can get hold of is only a few. Moreover, popular options like Bitcoin or Ethereum are usually associated with high prices.
New investors or enthusiasts can opt for trading or staking in such a scenario. Trading crypto assets increases one's ownership of currencies. However, it requires buying some assets to begin with. Eventually, the trader or investor is back to square one: the significant investment requirement.
That's where crypto faucets come into the picture. Anyone can leverage crypto faucets – which are websites, applications, or platforms – users can earn free crypto rewards. For that, they usually need to accomplish small tasks, including solving puzzles, completing games, entering captcha details at regular intervals during the day, etc.
Crypto faucet sites earn revenue through an arbitrage model that acts on a revenue-sharing model. In this model, for instance, faucets may redirect users towards advertising networks and earn revenue. They could distribute back a share of this revenue as crypto rewards to the users.
Usually, leveraging a crypto faucet for one's benefit is a sequence of four simple steps. First, the user begins by signing up on the crypto faucet site of their choice. Next, the user enters the details of the micro wallet address on the site. Once the user finds out and completes the tasks on the faucet site, a pre-decided amount goes out to their name. The user can receive payouts once the minimum withdrawal limit is hit.
RockX Sepolia Testnet Faucet

RockX empowers the crypto development space with institutional-grade blockchain nodes for people to build, scale and stake with ease. Its service components include access node API, liquid staking, multi-party computation, and staking as a service.
Web 3.0 developers leverage RockX to access and interact with top blockchain networks. The enabling vision of RockX is also to offer seamless access to blockchain data, crypto yield products, and best-in-class key management sustainably.
RockX's operations date back to 2019. It has offered safe and secure technological infrastructure to help the innovative protocols in the market to grow. RockX has over US$900 million in assets staked, with an annual yield of US$90 million.
The Sepolia Faucet – like many other networks – is also available on RockX for access. Requesting funds via Twitter would require the user to make a tweet with their Ethereum address pasted into the contents. Next, the user needs to copy-paste the tweet URL into the input box given on the webpage, and the work is done.
RockX is aware of the possible pitfalls apparent in the faucet system. Fraudulent actors may exhaust all available funds. Or a malicious accumulation of enough Ether may happen to mount long-running spam attacks. Therefore RockX has tied requests to common third-party social media network accounts, such as Twitter.
Crypto faucets are always a great way of getting into the crypto assets space. New investors can intelligently leverage faucets to make the most of them and earn 'free crypto'. The rewards volume would be proportional to the time invested in the faucet platforms.
In that way, it is a highly rewarding enterprise as well. But, one must also be aware of the faucet risks, which RockX has dealt with effectively already.